Main content starts here, tab to start navigating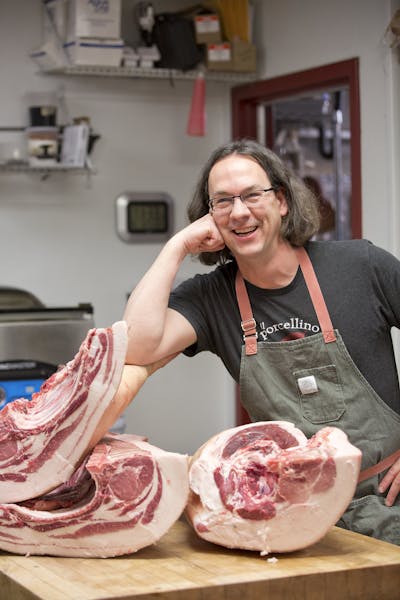 Bill Miner
President & Owner
Chef Bill Miner was born in rural Ohio. His family lived modestly in a small white house in Medina where they had a vegetable garden that inspired his earliest interest in food. Growing up in Ohio, his memories also include many visits to apple orchards and maple farms. These were the seeds of passion planted in him at an early age: farms and gardens – a insatiable curiosity about where food grows and how it is raised.
Over more than 20 years living in Colorado, Bill has become an accomplished chef. From humble beginnings, Bill began his career in the food industry spending several years bouncing around Breckenridge and Boulder and learning his way around the kitchen at some of the most influential restaurants in the business. Under the direction of Chef Mark Gordon, one such restaurant, Modena in Boulder, sparked his passion for cooking – a true turning point in his direction in life.
Bill enrolled in the culinary program at the Art Institute of Colorado in Denver, where he graduated at the top of his class. While in culinary school, he trained at Denver institutions such as The Oxford Hotel and the Denver Country Club, and spent a year cooking for rock star-chefs at a backstage catering company. In 2005, Bill joined the team at The Food Guy Catering Company as Chef de Cuisine, helping grow the company from a small mom-and-pop caterer into Relish Catering & Events, a multidimensional and dynamic business that is consistently recognized as a leader in the catering industry and annually receives awards distinguishing itself as the premier event company in Denver. Bill was eventually promoted to Relish's Executive Chef.
In 2012, Bill began pursuing an interest in dry-curing whole-muscle meats like Coppa and Bresaola. He has always had a passion for eating salami and other delicious cured meats, but wanted to learn how to actually make them properly. After several years of perfecting his recipes, Bill was encouraged by family, friends and colleagues to take his outstanding cured meats to the masses. Bill prides himself on sourcing ingredients from the wonderful state of Colorado and by doing so, has developed numerous relationships with local farmers and ranchers, elevating the quality of his product even further. As a result, the idea for il porcellino salumi was born.
In October 2015, the dream became a reality, as il porcellino salumi opened its doors in the Berkeley neighborhood as the first and only retail salumeria in Denver. The business is an extension of Bill and continues to evolve every day, including the introduction of a delicatessen with award-winning sandwiches, salads and soups; party platters and other catering offerings; and fresh butcher cuts sourced from local ranchers.
In January 2017, Bill and his team earned their first national recognition when il porcellino was one of only six Colorado companies to receive a Good Food Award , beating out more than 2,000 entrants nationwide. The exceptional quality of il porcellino's meats was further corroborated in February 2018 when Bill's team earned the "Grand Champion" title at the prestigious Charcuterie Masters competition in New York City, among several other categorical wins.
Il porcellino's latest development – a 6,000-square-foot USDA Wholesale facility in Basalt, Colorado – allows Bill to reach an even greater audience with his expertly crafted, responsibly sourced meats. As of July 2018, a selection of il porcellino's most revered salumi is available in a number of Colorado's top restaurants, markets, and cheese shops, and Bill has taken the brand national – beginning distribution in more than 25 states around the country. Most recently, the award winning salami was launched at Whole Foods in the entire Rocky Mountain Region.
Bill's wife, Elizabeth, is the 2014 Colorado Teacher of the Year. They have two boys, Alexander and Preston, who love salumi as much as Bill does. Bill believes it's of the utmost importance to understand where your food comes from and hopes to instill in his children the same love and passion for locally sourced and raised food that he experienced as a child. In Bill's free time, he enjoys going on walks and bicycle rides with his family, playing soccer and basketball with his boys, hiking in the mountains, home vegetable gardening, traveling to new and exciting places, and seeing Phish concerts.